Find a destination photographer
How it works
When travelling around the world we often feel inspired by the many fascinating sights and sounds along the way. We are living in an age where technology allows us to capture images and video instantly with selfie-stick equipped smartphones and consumer grade digital cameras among other things. The results when using this technology can be adequate for many occasions, but would you trust it for capturing a significant event such as your wedding or anniversary abroad? A very important question to consider! Finding a pro wedding or event photographer in an unfamiliar city abroad can be a daunting task to say the least. At Wedgo we pride ourselves in making this daunting task a lot simpler. As we all know, planning a wedding abroad is an enormous task in itself. Wedgo will help you lighten the load by connecting you with a friendly competent pro photographer from our worldwide database. Why not hire a professional who is established in the city, or near the resort where you are planning to have your wedding or celebrate your anniversary? We invite you to read further to find out how it all works..
Select the dates and destination of your trip or wedding
You will receive a list of photographers serving this destination
Choose and contact one of the photographers to discuss details and book your photoshoot
The moments you treasure
in stunning photographs
Also need a videographer,
hair and make-up artist
or wedding planner?
Do you want to travel around the world?
Wedgo will help you to find client at any destination in the world if you are a professional photographer, videographer, hair&makeup artist or a wedding planner. Work&travel with Wedgo
new clients a day find a photographer on Wedgo
87
requests from travellers
today on Wedgo
Looking for a photographer in Singapore
Hi there I am getting married next july in a traditional hindu wedding ceremony and we are having the reception the next day. I would like to know if someone of you have any quotation for...
Looking for a photographer in Indonesia
Hi, My friend is planning wedding in Bali next year end of november. How is it to book a time and what are your prices. We plan to be there for 2 weeks and the ceremony wil be in the middle of...
Looking for a photographer in Seychelles
Dear Sir/Madam We are hoping to get married in Seychelles. We want to get married end of March 28 or 29,30 possible. We would like to have a one or two-hour photoshoot at the beach or...
Looking for a photographer in Mauritius
I will be in Mauritius on the 2nd of April . Im interested in a professional photoshoot to document our vacation. I would like to have the photoshoot on the beach. could you please provide...
Looking for a photographer in Maldives
Hi I'll be visiting Maldives from 22nd -25th Mar as a honeymoon trip. We are interested in a short photography. Can i have the quotes & how this works...
Looking for a photographer in Maldives
Hi. My name is Nissa i want photography on Paradise Island Resort. Take a photo for Happy anniversary trip picture like pre wedding but had our son in photo. I want file in usb. 30-50 photo....
Looking for a photographer in Indonesia
Hey, we are planning our wedding for 15th September 2019 in Keramas at the Komune Resort and are wanting to source a good photographer/s to cover our special day. At present we are needing...
Looking for a photographer in Indonesia
Visiting Bali in June. looking for a pre-wedding photo and video shoot.
Looking for a photographer in Maldives
Hi, can you give me the quotation for outdoor photoshoot?
Looking for a photographer in Maldives
Hello! I will come male on march 19. I want to deal about photography.
Looking for a photographer in Maldives
Hello Dear, im Hüseyin from Turkey We will come maldives for honeymoon in august (fihalhohi island) we want honeymoon photos only 30-50 exposure in usb, maybe we together pay time...
Looking for a photographer in Iceland
Delivered hello, my husband and I have been married for 2.5 years and are going to Iceland for our 3rd anniversary in may 2018! I am looking for a photographer to capture this for us....
Looking for a photographer in Czech Republic
Hi my name is Shierly Sorry to be so direct. May i know the price you're offering for a session of photo? I am thinking to book a session between 4 or 5 april. Thank you...
Looking for a photographer in Maldives
Hi, Would you please provide more information on pricing and number of pictures that will be taken for a photoshoot in Maldives?
Looking for a photographer in Italy
Hello I am going to Positano, Italy in June for a wedding with my boyfriend. We will not be getting married, but I would like to get photos done while we're there of the two of us. I want more...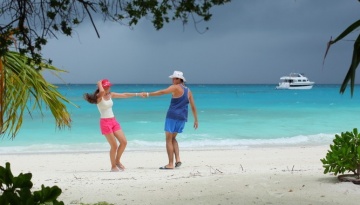 The best 10 wedding resorts of the world
The best 10 places for a destination wedding
How should you choose a dress for a wedding on the beach?
What is common for a wedding in Cuba, a symbolic ceremony in Bali and a romantic photosession or videosession in Maldives? Answer: they are united by the question: "What a wedding...
Wedding traditions
Wedding traditions in different places of our planet