Foto Express Wedding Studios
Pier & AnnaLisa
Photographer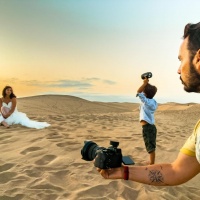 Fotoexpress Ferrara is a studio born in the early 90's with the intention of presenting innovative tools and products that wink, and the goal, the tradition of the great photographers of the past.
Thanks to a continuous focus on the avant-garde in technology and contemporary stylistic choices, spouses who rely on Fotoexpress have the ability to customize their wedding forever.
Chiara e Jurgen
Chiara and Jurgen

The newlyweds welcomed the guests at the Hotel Alla Grotta, a famous hotel built on the marina overlooking Lake Garda. The celebration of the religious wedding took place at the church "Parish of Saints Zeno and Martino" in two languages: Italian for Chiara and her guests and in German for the husband Juergen and his friends.

After the ceremony, a super party full of jokes, music and fun was organized by the couple and the lights illuminated the waters of the magical Lake of Garda.
Lake Garda
September, 2020