Foto Express Wedding Studios
Pier & AnnaLisa
Photographer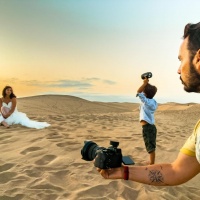 Fotoexpress Ferrara is a studio born in the early 90's with the intention of presenting innovative tools and products that wink, and the goal, the tradition of the great photographers of the past.
Thanks to a continuous focus on the avant-garde in technology and contemporary stylistic choices, spouses who rely on Fotoexpress have the ability to customize their wedding forever.
Alessandra e Massimiliano Sardinia wedding
Alessandra and Massimo hosted us in a beautiful location in the province of Carbonia-Iglesias on the southwestern coast of Sardinia. Uncontaminated places immersed in the barren and wild nature of the island.
Bel Paese is certainly an interesting destination from different points of view: locations, natural wonders, works of art and good food.

The peninsula offers numerous ideas to create the dream's wedding looking for destination which recalls family's roots or the memory of particular emotions experienced by the couple.

Sardinia is an amazing place where organize shooting.