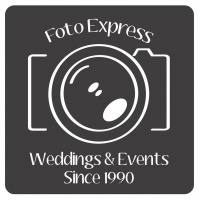 Fotoexpress Ferrara is a studio born in the early 90's with the intention of presenting innovative tools and products that wink, and the goal, the tradition of the great photographers of the past.
Thanks to a continuous focus on the avant-garde in technology and contemporary stylistic choices, spouses who rely on Fotoexpress have the ability to customize their wedding forever.
Santorini wedding
Santorini is an island in the Aegean Sea characterized by small towns in which the colors of white and blue predominate.

We had the opportunity to spend a few days with Linda and Morgan organizing a pre-wedding shootings (elopement) at different times of the day to be able to capture both the white and luminous beauty of the small city alleys of Imerovigli, and the magic of the sunset over the sea in Oia.

The wedding was celebrated at Villa Andromeda, on a panoramic terrace where the soft colors of the flowers embellished the natural setting of the mountains and the sea behind the couple.