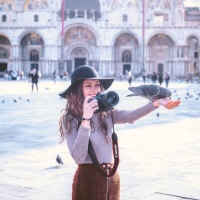 Wedding and family photographer in Greece
Wedding photo shoot in Greece
Hello from the Mediterranean! My name is Natalia and I have been a photographer for 8 years. My passion for photography began when I lived in Bali, Indonesia. Since then, the hobby turned into a profession. Plenty of photo shoots followed. I've worked around the world (visited 30 countries and lived in 7.
Wedding, engagement, proposal, family, portrait photography - all are welcome! I can capture your event in Athens, Santorini, Mykonos, Rhodes, Corfu, Crete, etc. I'm always happy for you to contact me to discuss how we might save your emotions in beautiful pictures!
I'm almost sure we can find a way to communicate because I speak English, Italian, Russian, German, Greek
Save your sweet memories from elope to Greece!