Francis Sylvest | Colorado Elopement Photographer
Sylvest
Photographer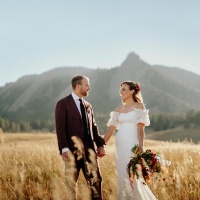 Welcome all, I'm Francis Sylvest, a Colorado-based Elopement photographer, and videographer. With over 6+ years of experience, I specialize in helping couples create meaningful and authentic elopement experiences.
Colorado Elopement Photography and Videography Packages
Hello all! I'm excited to share that alongside Lauren & Travis of Love, Lorraine (elopement photographers) we'll be offering photography and videography packages. Each package will also include planning services as well!

With over 15 years of combined elopement experience, we're here to help and know exactly how. From start to finish we'll help you craft your perfect elopement day experience. From our state-of-the-art elopement planning portal to our extensive knowledge, it will all be at your fingertips.

All photos below are by Love, Lorraine while all films are by me (Francis Sylvest).

Let's start planning your elopement or small wedding today!