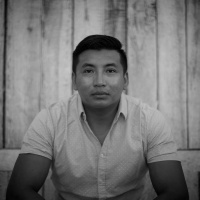 Hi! I'm Alan Fresnel, I'm a destination wedding photographer, a passionate for telling stories through my camera.
Each wedding is a new adventure for me, being part of it is a great honor so don't surprise if you see me crying at your first dance or jumping in the dance floor with your guests. I hope you are the next one to share this adventure with me.
Marina & Reinaldo Wedding in Mexico
Marina & Reinaldo chose one the best locations to bring their closest family and friends from Los Angeles, Brazil, and even Russia, they chose the beautiful island of Cozumel for their destination wedding in Mexico.

We started a full day wedding coverage at noon with bridesmaids, mothers, and friends getting ready. Marina as a costume designer, of course, designed her wedding dresses, yes, 3 amazing dresses that she wore along the night.

The ceremony was memorable, full of laughter and emotions, they honored their beloved friends and family with hundreds of butterflies, a very meaningful moment for the couple.

Totally uninhibited reception with guests all over the world, an all-out dance party started right after dinner and didn't stop until the DJ had to unplug.

All in all, it was a completely unforgettable weekend, and we're so grateful for the opportunity to photograph such a bright and beautiful couple in the beginning of the rest of their lives.