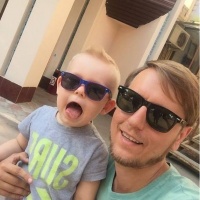 Hi guys! I am a videographer, I like to travel and shoot videos. I also love photography very much, and if given the opportunity to shoot in a picturesque place, I'm happy to do it!
Guido & Lubov
Venice, the mythical pearl of the Adriatic. The most romantic city in Italy with a unique and rich past. Under the lapping sea waves, surrounded by unique masterpieces, sculptures, paintings and Gothic, here every day lovers say to each other - YES, creating a family.
Guido and Love.
She is grateful to him for the fact that he always chooses words that warm her soul. He is for her the cosmos and the whole universe. He adores her for the fact that she is able to always be there at the right time, loyal, sensitive. Next to her, the world becomes more beautiful.