Orchid Studio
Photographer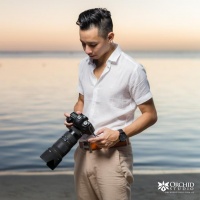 Orchid Studio is one of the most highly sought-after wedding media production studios in Mauritius and the Indian Ocean.

Our crafted photographs and films tell stories about people and their emotions.
We capture and document authentic and decisive moments in time, and transform them into timeless mementos.
Based in Mauritius, we love to travel.
Talk to us!
Chrystal & Andrew :: Campbell Point House :: Geelong, Australia.
"...these words I say, even some things I do pray, all for you my heart is beating, with eyes upon us, I say now, I have been yours since our first meeting..."

Chrystal & Andrew.
Campbell Point House, Geelong, Australia.

Wedding Planner: Wedding Day P.A
Make-Up: Chantelle Baker | Hair: Telleish Hair Studio.
Bridal Gown: Mariana Hardwick | Bridesmaid Dresses: White Runway.
Flowers: Botanics | Cake: Miss Ladybirdcakes
Event Hire: Peppersprout | Graphic Design: Adelphi Mou
Photography and cover photo courtesy of Love Katie & Sarah.
Video Christopher Lim Orchid Studio
Australia
February , 2016