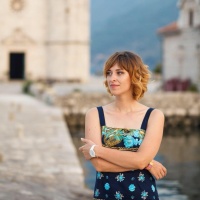 My name is Mari Abramkina. I take photos in Montenegro, Croatia, Europe...
I take a responsibility attitude to my work. So I always have two sets of equipment in case of unexpected conditions.
The first photos I give back the first five days after event.
I will come to the place of your rest or event with pleasure.
Nastya&Avi in Montenegro
It was romantic walking of Nastya and Avi in Kotor old city, then they went to meet a sunset in the hill close to St. Stefan island. The couple began their morning in hotel. We have made there some portraits. Then walked leisurely along the Kotor`s streets. By the way, there are no so many tourists in October as in a high season. Some tourists fell into the frame, but it have made the photos more picturesque. The second part of walking was in the top of the hill with amazing view of the Budva and St. Stefan island.