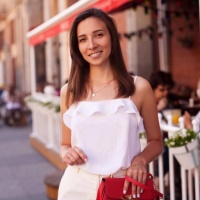 I'm makeup artist & hairstylist.
Based on Santorini/Crete: Jun-Oct

Book your date❤️
Crete. Wedding day
Amazing bride Olga booked a villa in the outback of the island. The atmosphere there is completely different, not like on the coast - the smell of herbs, fresh mountain air, olive groves...

I created makeup & hair in a cool villa. Bridesmaids with a glass of champagne were around us :)

It was one of the most comfortable gatherings, when I was on the same wavelength with the bride. We made light large curls and brown smokey eyes. The image turned out to be quite gentle and natural, matching the dress and the general atmosphere of the island.

I must say that the guys brought all the relatives,even children and an 80-year-old grandfather, who was abroad for the first time. This is very nice!