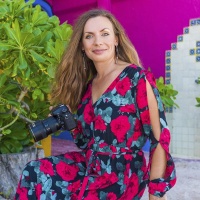 Hello! I am lifestyle photographer in Cancun, Isla Mujeres, Playa del Carmen, Tulum and Cozumel island.
Honeymoon photoshoot in a cenote in Tulum Mexico
This lovely and beautiful honeymoon photoshoot took place in one of the most popular cenotes in Tulum Mexico. After doing some photographs in a natural ambiance with tropical nature around we did some amazing photos underwater. This style is called trash the dress photo shoot. If you love adventure and are looking for some new experience you should try this type of a photo session. In Mexico especially in Riviera Maya there are a lot of wonderful cenotes that are available for trash the dress photo sessions.