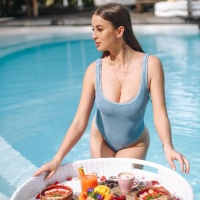 Hello, I'm Kristina, Bali based photographer. I do wedding shootings, elopement, family and personal shootings. Also I did a lot of photoshoots and videos for famous clothes and cosmetic, jewelry brands. Also I love work with bloggers and travel couples and organize their holidays in Bali. I live here more than 5 years already and I'm a big specialist how to create Lux holidays in Bali!
Romantic Bali pre-wedding photoshoot
Hello, my name is Kristina! I have gorgeous team videographers and photographers who will care about your best holidays in Bali! I am Professional photographer and organizer of tours and events. We have an excellent team of guides and photographers working with us - we will be happy to show you our Asia. Our life is one big photo trip, we have visited more than 30 countries, many of which we hitchhiked, meeting new people and studying the life of the country from the inside. We climbed the volcanoes of Java, made our way through the jungles of Bali in search of the highest waterfall, explored the nature of Altai on multi-day "savage" hikes, traveled half of Europe by car and drove all of Asia on a bike. We will share with you our interesting stories, tell you how it is most interesting to get acquainted with new countries and where to go on your next trip. We will show you all the most exotic and non-touristic.