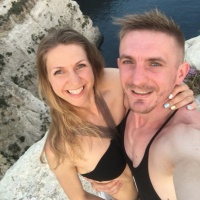 Iceland
,
Seychelles
,
Italy
,
Spain
,
Denmark
,
Sweden
,
Greece
,
Germany
,
France
,
Portugal
,
Philippines
,
Netherlands
,
Cuba
,
Indonesia
Hi Friend. I love make people happy on my video. Just ask! I will be honored make some special and extraordinary video for you!
Thank you. Your review has been sent
Event date: May 10, 2019
Services: Videography
Destination Paris (France)
We had a wonderful trip to Paris last year that changed our lives) I was told that it would be a love story but, in the end, it appeared to be a proposal! During 3 days Michael had enough patience and optimism to shoot us in different venues of that marvelous romantic city. He was full of ideas and enthusiasm and was able to spread it to all of us. Even when I refused to shoot the final stage of the video in the place that was chosen in advance (that must have been a place of the proposal that I hadn't known about :) ), he managed not to kill me and change the plot on the way :)))) So everybody was pleased and surprise wasn`t spoilt. The result was just amazing! The video is so touching and full of tender feelings, sincerity... It immerses us into the atmosphere that we experienced there, a wonderful material piece of memory! As soon as we hear that a good videographer is needed, Michael is a definite recommendation of ours! You will never regret about your choice!
April 17, 2020
Event date: November 09, 2019
Services: Photography, Videography
Destination Malaysia
We hired Mikhail and his partner for photography and videography at our wedding in Malaysia. They provided extremely great services and managed to capture all the intricate and intimate moments, and did not impose anything on us but managed to suggest creative ways to provide great results! They went above and beyond for us and even after a 14 hour wedding coverage on the first day, they still managed to accommodate us on the 2nd for a delightfully quiet wedding photoshoot, despite how tired they must've been after the 1st day! They were really committed to their work by arriving on time early in the morning, patient through all the stressful moments and independent with getting around, and the results are super amazing! Mikhail not only provided a great cinematic video but also pictures that will last a lifetime for us. From the bottom of our hearts we really thank our lucky stars we managed to find them and took a chance on booking them. The results are truly worth it!
February 22, 2020
Event date: November 20, 2019
Services: Photography, Videography
Destination Seychelles
From the bottom of our hearts we would like to thank Mikhail and his partner. They very professional and accommodating. We booked him for a twelve hour package. Split into two days we did a pre-wedding shoot and the day of the wedding shoot and they were more than 100% committed. Arrived on time and stayed even longer and made sure to capture everything from pre-wedding fun and getting ready for the big event, all the way to the after party. We received the video 6 weeks later as promised. His videos and techniques are very unique. You can see they enjoy what they are doing and doing from their hearts. Thank you Mikhail and Tanya. You guys were amazing and we wish you all the best for you career as destination photo- and videographers!!! All our Love Mika and Ali
February 17, 2020
Event date: November 19, 2019
Services: Videography
Destination La Digue (Seychelles)
We booked mikhail as videographer for our wedding in Seychelles. We can really recommend mikhail. He is very professional and the video shoot was a lot of fun. The result is incredible. At our wedding ceremony, you did not notice him at all but the video included every detail. Really a great videographer.
December 08, 2019