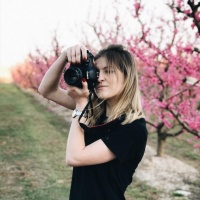 I am a freelance photographer and videographer from Ukraine, based in Barcelona. I consider myself a storyteller, co instead of typical photo or videosession I am trying to tell the story hidden behind the scenes- your feelings, emotions, your jorney. I habe been living in Spain for almost 4 years which allowed me to discovered its most beautiful places and magical hidden spots to make sessions at
MBA Nights-Networking event
This is an example of the event covered by me. The networking event for Barcelona MBAs brought up together active and motivated students and let me capture them having fun.

I really enjoy capturing special occasions like birthdays, weddings, engagemets etc.

The preparation starts with a small talk with the client online or face to face where we get to know each other and discuss details of the future shoot-location, duration, dress code, other people involved.

As I have my own transport I prefer to move outside of typical location. Obviously if the format allows, and we are not stick to the venue.

This is the style I implement in all my videos- details, emotions, movement.