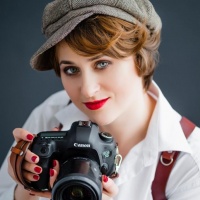 I'm a photographer from Russia, more than anything I like shooting families. I believe in the power of photography. Enjoying moments of memories that are needed by each of us.
Love story of Eva and Luka in Trondheim
It was amazingly interesting few days in the northern city of Norway - Trondheim. Through its cozy, colorful streets you can walk forever. But, besides the sights, I had the pleasure of taking pictures of an international couple. Photoshooting people in a foreign country, with different traditions, mentality (specifically with regard to photography) and, in the end, with foreign language, is a rather difficult and important task. Eva and Luka (by the way, the Slovenes, who have lived and worked in Norway for many years, in the field of design and architecture) are quite cheerful and friendly fellows. While taking pictures I wanted less interference in the process, imposing my own standards, but letting them completely remain themselves. Meanwhile it was also important to save my face (or rather the soul) in the photo. I hope we succeeded.
One of the most colorful and cozy places of Trondheim.