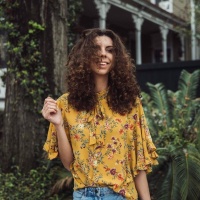 Thank you. Your review has been sent
Event date: June 03, 2018
Services: Photography, Hair&beauty
Destination New York (United States)
It was an amazing love story photo shoot. Kat's professionalism approach starting from our communication with her through e-mail and ending with the transfer of finished photos. We just said what we are waiting for from the photo session, and Kat did everything herself. I was wondered of her deeply attentions for details. She created for us photo looks, she found a professional make-up for us. She even advised us what a bouquet would be better for our photo walks. The photo shoot was very easy. It seemed to us that we know each other for a long time. We felt very comfortable and warm with her and she knew how to stage a subject correctly. She was extremely reactive, provided feedback right away, very punctual and always responsive. We like her personable, and highly professional.
September 13, 2018
Event date: August 17, 2018
Services: Photography
Destination United States
My husband and I hired Kat for a romantic lifestyle LOVE STORY photoshoot to celebrate our five-year Wedding Anniversary in Hawaii. My husband isn't into photoshoots at all, but after seeing Kat's portfolio he wanted to shoot with her right away. We met a couple of days before the shoot to sort of get a feel for each other. Right away we fell in love with Kat! We really appreciated her taking the time to meet us before the shoot. She was very positive and professional from the beginning as we went over the logistics and selected appropriate timing and locations for the shoot. We really appreciated how efficient yet gentle her direction was during the shoot. It helped us to relax and follow her direction with ease. One thing that struck us the most was Kat's terrific imagination! She suggested so many wonderful locations and organic yet very specific activities during the shoot. This made our photos look very unique - different from millions of other couple's photoshoots - and at the same time very vibrant, natural and in-the-moment. When Kat showed us our photos, we were at awe. So were our friends and family. We got comments like, "A brilliantly captured romance!" "Your pictures look like they came straight out of a magazine!" "How intimate, romantic & original!" It was as if Kat was this invisible magician who showed up during our private moment and was able to fully capture our beautiful Island Love Story frame by frame. Needless to say that our Wedding Anniversary photos will be memories to last a lifetime. We are forever grateful!
August 19, 2018
Event date: May 21, 2018
Services: Photography
Destination New York (United States)
I highly recommend Kat! The photo session was great. We were very comfortable to work with her. She can help with organization, locations, bouquet and hairstyle. I really like that Kateryna created a plan before and was well prepared. She is a responsible, professional and creative person. Kat thank you so much for the wonderful photos!
July 22, 2018
Event date: April 07, 2018
Services: Photography
Destination New York (United States)
Kat is the most professional and hardworking photographer I've knew! First of all she is always preparing for all the shoots very carefully and spending time to understand clients needs and wishes and always offers her ideas to make your photos as beautiful and realistic as possible! Her style of photography is another thing to talk about - it's always very stylish and she is able to catch the most important details and pure emotions, I was feeling very comfortable in front of the camera and Kat was helping with some posing advises and directions. All the photos are amazing! And it's definitely worth the money! These memories are priceless!
June 06, 2018
Event date: April 27, 2018
Services: Photography, Hair&beauty
Destination United States
I have overwhelming amount of positive emotions after the photo shoot we had, and i had even more of those positive emotions when we got our pictures. Let me start from the very beginning. Kat is a big deal professional, not only that she is professional, but she is also very easy to work with, very patient ( which was extremely important to us, due to the fact that we had our 1 and a half year old son taking pictures with us). The moment we got our pictures... i could not believe, how great they are! Seriously! I printed so many of them, had to buy a separate album just for those pics. HIGHLY !!! Highly recommend her! Just wonderful! Magical and genuine photographer and person she is!!!
June 03, 2018
Event date: May 15, 2018
Services: Photography
Destination Hawaii
Kat was professional but light-hearted, and she listened to my ideas before developing a clear plan for how the shoot would go. She highlighted mine and my partner's best features in the shoot, and kept us laughing throughout. Kat was flexible about the locations and had loads of great ideas about beautiful settings. As a local she knew all the hidden spots, and how to exploit them to their best potential. Kat delivered the photos in less than a week! We're so happy because now we'll have them for a lifetime. The composition, lighting and colour of the photos is just stunning. Thanks so much Kat! I hope lots of people get to have as much fun with you as we did! Kind regards,Ela
May 24, 2018
Event date: May 09, 2018
Services: Photography
Destination United States
Kat takes stunning photos! She is professional, easy to work with and knows how to capture her clients as their best selves. Kat 's ability to make her clients feel comfortable, combined with her eye for the perfect moments, create magazine worthy images. Highly recommended!
May 24, 2018
Event date: April 25, 2018
Services: Photography, Hair&beauty, Wedding planning
Destination New York (United States)
Kat was extremely easy to work with and a cheerful and welcome energy on a possibly nerve racking and quite a busy day in my life. Not only did she helped my husband and I relax during the photo shoot, she also gave very helpful suggestions on fashion, a skin care to do list before the shoot, and styling of different garments. I really appreciated how responsive she was when we had questions about colors and design of our outfits, and at the end everything came together beautifully. She is also very good at working with any personal preferences and making it fit into the general mood of the shoot. When we had a final phone call to discuss everything the day before the shoot, it was evident that she cared that we had a good experience. I also like that she had multiple backup ideas for locations, props, and poses. After the shoot both me and my husband looked at each other and nodded that we will definitely be hiring her for any future events!
May 23, 2018
Event date: April 25, 2018
Services: Photography, Hair&beauty, Wedding planning
Destination New York (United States)
It was a big pleasure to work with Kateryna! She's an amazing professional and super easy to get along with! The photo shoot felt more like a "get together" than a stressful day. She is extremely talented: found a perfect location, made the most beautiful bouquet, helped us with general style/clothes and took care of 100% of all the details. The result is just mind blowing, couldn't dream of a better person to capture that special day! Thank you Kat!
May 22, 2018
Event date: January 01, 1970
Services: Photography, Wedding planning
Destination United States
Catherine helped us a lot in the wedding! In addition to the fact that she takes great pictures, she will also help with the selection of locations, with the decoration of the holiday and the creation of an atmosphere) Recommended
May 21, 2018