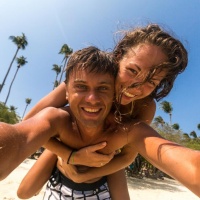 Natural photographs of your happy moments! Book your date!
Thank you. Your review has been sent
Event date: August 20, 2021
Services: Photography
Destination Denmark
We are absolutely delighted with Serg's work. He was always available if we had any questions before our wedding day. He prepared options of routes where to have the photosession, all of them turned out to be amazing settings. On the day he arrived earlier than us, was very attentive, gave us suggestions of how to pose and what to do which we are very grateful for, because we had no clue. His rates are crazy good for what you get. The pictures are so lively and magical and fully reflect the happy mood of the day. Exactly what we were looking for. We genuinely could not wish for our experience and pictures to be any better. I will recommend him to any of my family and friends for sure.
October 09, 2021
Event date: May 13, 2018
Services: Photography
Destination Paris (France)
We are so thankful to Serg for eternalizing so very precious moments of our special day. He does his job so natural and artistically. Even the shiest persons feel relaxed and at ease with him. I recommend Serg to everyone, who would like to have pictures of very high quality, and spend a pleasant moment!!
June 29, 2020
Event date: July 18, 2019
Services: Photography
Destination Positano (Italy)
Working with Serg was an absolutely seamless experience. I had planned a surprise proposal in Positano during our vacation and found Serg through a photography website. He responded promptly during the planning stages and recognized the vision I had for this special occasion. He even got in touch with the restaurant and understood the arrangements that they had made for us. He captured the intimate moments of the proposal beautifully. During the photoshoot, he gave us subtle suggestions and captured stunning photographs. We didn't even feel like we were having our photos taken! He delivered the proposal photos the same night so we could share them with our family and the final package was also delivered on time! I cannot recommend him enough!
April 27, 2020
Event date: February 14, 2020
Services: Photography
Destination Denmark
I am looking forward to working with him again! He was kind, professional and paid attention to what I wanted for that special day... So he captured what we are as a couple and the result could not be better. I am grateful and totally recommend him!
March 30, 2020
Event date: February 07, 2020
Services: Photography
Destination Denmark
We are so lucky to have picked Serg for capturing our special day. The photos we exactly how we wanted to remember our day, his attention to the small details as well as ideas of different perspectives really made our photos unique. We felt very comfortable shooting with Serg and had a lot of fun, he not only gave us some ideas but listened our ideas and to the things we mentioned were important to us. We hope to have another photoshoot with Serg next year and really recommend him !
March 30, 2020
Event date: August 10, 2018
Services: Photography
Destination Seychelles
Prior to our trip to Seychelles, and upon reviewing Serg's profile, we were certain that we wanted him to capture our precious moments on film. From the first communication with Serg, we were impressed by his overall package (trip, accommodation, photography and album). Serg even went the extra mile by doing a full photoshoot for my husband and I the day before our wedding which were amazing and helped us build photo confidence... the words "Be Happy" still resonate... as he used that phrase to capture romantic and candid images of us. On the big day, Serg captured a series of incredible shots that still bring tears of joy to this day! Truly a great photographer!!!
March 29, 2020
Event date: May 01, 2019
Services: Photography
Destination Germany
Awesome! The pictures were of the best quality and even better than we could have expected. We were struggling to find a photographer that could live up to the expectations of the bride, who had worked seven years as a wedding photographer herself, before we came across Serg's Instagram account. Once we contacted Serg, he was excellent and very easy to deal with. His rates were unbelievable good and he adjusted his services to our needs. He communicated with us through the whole process and was clear and concise in his instructions and happy to provide extra services when they were requested. Serg was with us for the whole day from early in the morning , he was completely self-organised with his transport. He captured the atmosphere of our reception in a beautiful and natural way, without ever intruding in the proceedings or making it look contrived. He showed us many of the efforts of our family in the background and before the start of the reception with the preparation of food and decoration, which we were not able to see on the day. This gives us an even bigger appreciation for the magic and the spirit of that special event every time we watch the pictures. We were absolutely happy when we received the album from Serg. The wrapping of the album was like a gorgeous gift. The quality of the pictures and the paper was of the highest degree. We would absolutely recommend Serg to anyone looking for a wedding photographer no matter where you are in the world.
March 22, 2020
Event date: November 09, 2019
Services: Photography, Videography, Wedding planning
Destination Malaysia
We hired Serg and his partner for photography and videography at our wedding in Malaysia. They provided extremely great services and managed to capture all the intimate and intricate moments! They didn't impose anything on us but managed to suggest creative ways that provided really great results! They went above and beyond for us and even after a 14 hour wedding coverage on the first day, they still managed to accommodate us on the 2nd for a delightfully quiet wedding photo shoot, despite how tired they must've been after the 1st day! They planned everything perfectly and are really committed to their work by arriving on time early in the morning, patient through all the stressful moments and independent with getting around, and the results are super amazing! Serg not only managed the entire wedding photography process but also provided pictures that will last a lifetime for us. From the bottom of our hearts we really thank our lucky stars we managed to find them and took a chance on booking them. The results are truly worth it!
March 16, 2020
Event date: February 09, 2020
Services: Photography
Destination Switzerland
Serg was such a delight to work with. He was super patient and kind as we did run late for the shoot. The photos he took were out of this world and our family and friends cant stop raving about them. He made our pictures look like they were part of a (not cheesy) fairytale. He was also very flexible with locations. Each and every location he chose to shoot came out looking better than they did in real life. Dont need to get any quotations from anyone else, Serg was affordable and he definitely knew what he was doing. Thank you once again Serg, you are a star!!
February 26, 2020
Event date: October 10, 2019
Services: Photography
Destination La Digue (Seychelles)
Serg was such a pleasure to work with! He was so accommodating and very generous with his talents and time. Best of all, he was completely up for an adventure – willing to risk getting lost in the jungle with us, shoot through the pouring rain, and scramble around barefoot on huge rocks with us. And it all paid off... his photos are stunning and he's great at capturing those candid moments that most couples dream of, and his drone shots really brought our wedding photos to the next level. 100% would recommend him to anyone looking for beautiful, natural, and intimate photos. Thank you for everything Serg!!! You helped make our day so incredibly special, we are forever grateful.
February 19, 2020