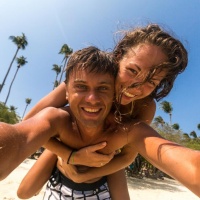 Spain
,
Italy
,
Iceland
,
Norway
,
Sweden
,
Hong Kong
,
Ireland
,
France
,
New Zealand
,
Switzerland
,
Austria
,
Tanzania
,
Belgium
,
Netherlands
,
Denmark
, ...
I catch moments of your happy life!)

Available in Europe and worldwide!
Thank you. Your review has been sent
Event date: August 21, 2019
Services: Photography
Destination Iceland
We chose Serg because we did not want the perfectly posed, Pinterest images of couples that didn't look like us or like reality. We chose Serg because we felt that each and every one of her pictures captured the realness and essence of each couple. We were excited to see what Serg would capture in us. We didn't know what to expect but the hours we shot felt like minutes. In our pictures, she captured the way he makes me laugh uncontrollably, the mischievous look he gives me before he's about to do something silly, our quiet moments on the rocks, and the way he has always held my hands. In our pictures our smile is little too big and our eyes are a little bit too crinkled but it's absolutely perfect because it's completely real and completely us.
September 04, 2019