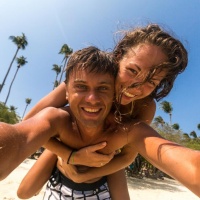 I capture moments of your happy life!)

Available in Europe and worldwide!
Thank you. Your review has been sent
Event date: October 10, 2019
Services: Photography
Destination La Digue (Seychelles)
Serg was such a pleasure to work with! He was so accommodating and very generous with his talents and time. Best of all, he was completely up for an adventure – willing to risk getting lost in the jungle with us, shoot through the pouring rain, and scramble around barefoot on huge rocks with us. And it all paid off... his photos are stunning and he's great at capturing those candid moments that most couples dream of, and his drone shots really brought our wedding photos to the next level. 100% would recommend him to anyone looking for beautiful, natural, and intimate photos. Thank you for everything Serg!!! You helped make our day so incredibly special, we are forever grateful.
February 19, 2020
Event date: November 20, 2019
Services: Photography
Destination Seychelles
Dear Serg Wow. Just wow! These were the only words we could think of as you left us speechless with the stunning pictures. Thank you Serg for capturing a special day we would never forget. We booked Serg for a 12 hour package. He accommodated us by splitting this package into two days and we did a pre-wedding shoot on another beach in Seychelles. Serg was very professional and so at ease doing his job. He was always on time, and even stayed longer to capture fun pictures at the after party. He is going the extra mile to ensure his clients are happy and get what was expected. We received the edited pictures within six weeks and did not fail to disappoint. Compliments to you Serg and thank you for the hard work you put into our wedding. With Lots of Love Ali and Mika
February 18, 2020
Event date: October 28, 2019
Services: Photography
Destination Seychelles
Serg is a great photographer! He is very kind, patient, open minded and imaginative. We had a great time together and the pictures are more than beautiful! Natural and intimate. Great work!
February 03, 2020
Event date: September 06, 2019
Services: Photography
Destination Prague (Czech Republic)
erg is a professioal,friendly and flexible photographer. He provides photo shooting service in any European city with very fair price. We had a nice wedding photo shooting experience in Praha. Serg was well prepared and did enough research in advanced about suitable locations for the photo shooting. He also able to take photo in crowd locations and ever under bad weather conditions. He is passionate in wedding photograph and has good photo editing skills and he delivers well organized photos in time. We would certainly love to have him as our photographer again.
January 29, 2020
Event date: September 07, 2019
Services: Photography
Destination Belgium
Sergei did an amazing job, capturing all the most wonderful moments of our special day. We had a very smooth communication from the beginning; and the shooting of the day was seamless; Sergei was taking pictures restlessly all day. I liked the fact I could focus on things around me and Sergei was capturing it all. The images we have received are exactly what I wanted: the colors, the ambiance and mood, how naturally our emotions were captured -it is what I was looking for in a photographer and was happy to have found it in the work of Sergei. . I would definitely recommend Sergei for his professionalism and amazing quality of work. Thank you so much!
January 25, 2020
Event date: December 18, 2019
Services: Photography
Destination Denmark
We had such a great time with Serg and the photos he took are so beautiful. He is the photographer you picture at your wedding: he is professional and so careful to all the details. Serg helped us with the ideas and locations and managed to take photos of all the moments we needed. And as a result we've gotten gorgeous photos. Many many thanks <3
January 13, 2020
Event date: December 22, 2018
Services: Photography
Destination Denmark
Serg took our engagement photos during our trip to Copenhagen. From start to finish he was very engaging, organised, communicated very well, and the photos he printed and album he arranged for us were very beautiful. We highly recommend him, and will be going back to him to print our Wedding Album, because he did such a great job before on the engagement shoot.
January 05, 2020
Event date: December 06, 2019
Services: Photography
Destination Spain
Serg is just an amazing photographer! He takes his time to make sure the images are perfect, both while taking them and when editing. We were thrilled to see so many wonderful images and have looked over each and every one again and again. Highly recommended!
January 02, 2020
Event date: November 19, 2019
Services: Photography
Destination La Digue (Seychelles)
We had an unforgettable wedding in the Seychelles. And thanks to Serg, we won't forget a moment. He has been with us all day and the result is very great. He is professional and has photographed us from many perspectives. But what we didn't notice during the wedding. We thank you from the bottom of our hearts. Daniel and Alena
December 24, 2019
Event date: August 21, 2019
Services: Photography
Destination Iceland
We chose Serg because we did not want the perfectly posed, Pinterest images of couples that didn't look like us or like reality. We chose Serg because we felt that each and every one of her pictures captured the realness and essence of each couple. We were excited to see what Serg would capture in us. We didn't know what to expect but the hours we shot felt like minutes. In our pictures, she captured the way he makes me laugh uncontrollably, the mischievous look he gives me before he's about to do something silly, our quiet moments on the rocks, and the way he has always held my hands. In our pictures our smile is little too big and our eyes are a little bit too crinkled but it's absolutely perfect because it's completely real and completely us.
September 04, 2019