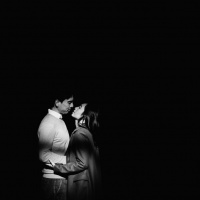 Hi I'm Laura!
Or maybe I should say "hi, I'm a lucky girl" because my work is my greatest passion!
The curiosity ... the desire to know new people and touch them on tiptoe, even just for a moment, in their intimacy ... to move me and be able to freeze emotions order to be able to revive this to infinity ... all this for me means to photograph!
Romantic engagement in Florence
Caeli and Kenzie come from Los Angeles, but they've been separated by the ocean since Caeli works in the army in Vicenza. I was positively astonished by their shy sweetness, their deep complicity, the lightness of their looks and the strong desire to live the future together!
They haven't done anything but being themselves in front of my camera, expressing the love and the passion that joins them! It has been very moving to me: love fascinates me, attracts me, it makes me feel afraid, it makes me feel curious of its shapes, that's why I felt so honored to witness it.