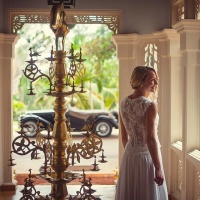 Hello world! I represent part of the team of professionals. We are here to make your journey the best in your life. We can do photoshoot or videoshoot for you, your family or for your business. Also we cooperate with the best wedding decorator and coordinator, so you can ask me any question and i will answer with pleasure. If you want to get very quick response - just text me in whatsapp!
Honeymoon in Mauritius
Alex & Sasha were staying in St. Regis hotel Le Morne Mauritius. They wish to celebrate their honeymoon and to remember this journey to Mauritius they invited us to capture this very special moment for them. The photoshoot was in perfect location: between ocean and 5-star hotel. During photoshoots i don't ask my models to freeze in some strange pose. We are playing games, quests and having fun - this is the right time for me to catch emotions and smiles on faces. I really like to observe how people changing during the photoshoot.
Mauritius
February , 2018